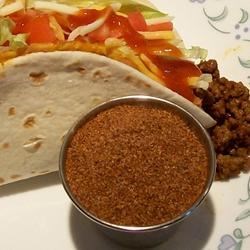 I was making Taco Soup and realized I didn't have a taco seasoning packet. I found this recipe for taco seasoning on allrecipes.com. It made the equivalent of one packet of seasoning. And it tasted great!
1 tablespoon chili powder
1/4 teaspoon garlic powder
1/4 teaspoon onion powder
1/4 teaspoon crushed red pepper flakes
1/4 teaspoon dried oregano
1/2 teaspoon paprika
1 1/2 teaspoons cumin
1 teaspoon sea salt
1 teaspoon black pepper
Mix spice together and store in an airtight container.